SONC Conditionally Supports Office of Compliance
Posted on 11/14/2023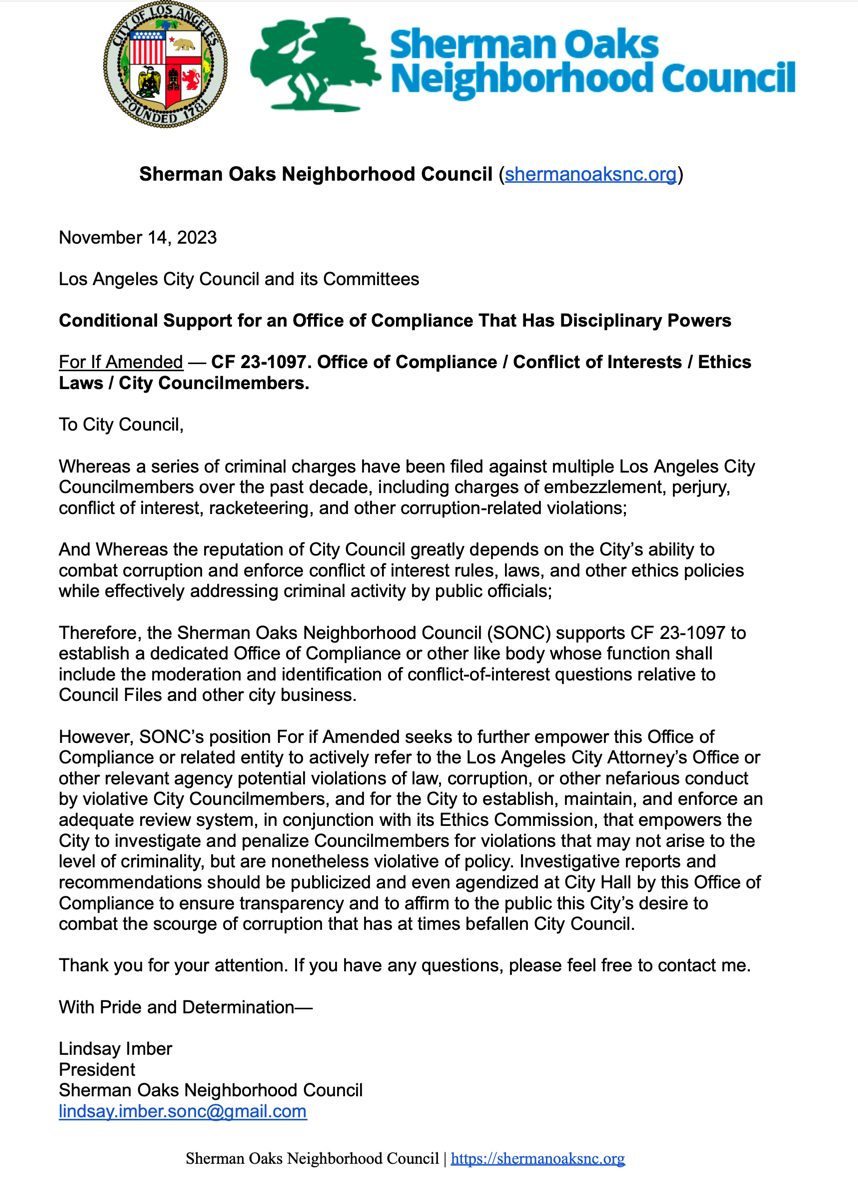 Conditional Support for an Office of Compliance That Has Disciplinary Powers
For If Amended — CF 23-1097. Office of Compliance / Conflict of Interests / Ethics Laws / City Councilmembers.
To City Council,
Whereas a series of criminal charges have been filed against multiple Los Angeles City Councilmembers over the past decade, including charges of embezzlement, perjury, conflict of interest, racketeering, and other corruption-related violations;
And Whereas the reputation of City Council greatly depends on the City's ability to combat corruption and enforce conflict of interest rules, laws, and other ethics policies while effectively addressing criminal activity by public officials;
Therefore, the Sherman Oaks Neighborhood Council (SONC) supports CF 23-1097 to establish a dedicated Office of Compliance or other like body whose function shall include the moderation and identification of conflict-of-interest questions relative to Council Files and other city business.
However, SONC's position For if Amended seeks to further empower this Office of Compliance or related entity to actively refer to the Los Angeles City Attorney's Office or other relevant agency potential violations of law, corruption, or other nefarious conduct by violative City Councilmembers, and for the City to establish, maintain, and enforce an adequate review system, in conjunction with its Ethics Commission, that empowers the City to investigate and penalize Councilmembers for violations that may not arise to the level of criminality, but are nonetheless violative of policy. Investigative reports and recommendations should be publicized and even agendized at City Hall by this Office of Compliance to ensure transparency and to affirm to the public this City's desire to combat the scourge of corruption that has at times befallen City Council.
Files