President's Letter: SONC's Stance on Abortion and Other Civil Rights Issues
Posted on 06/24/2022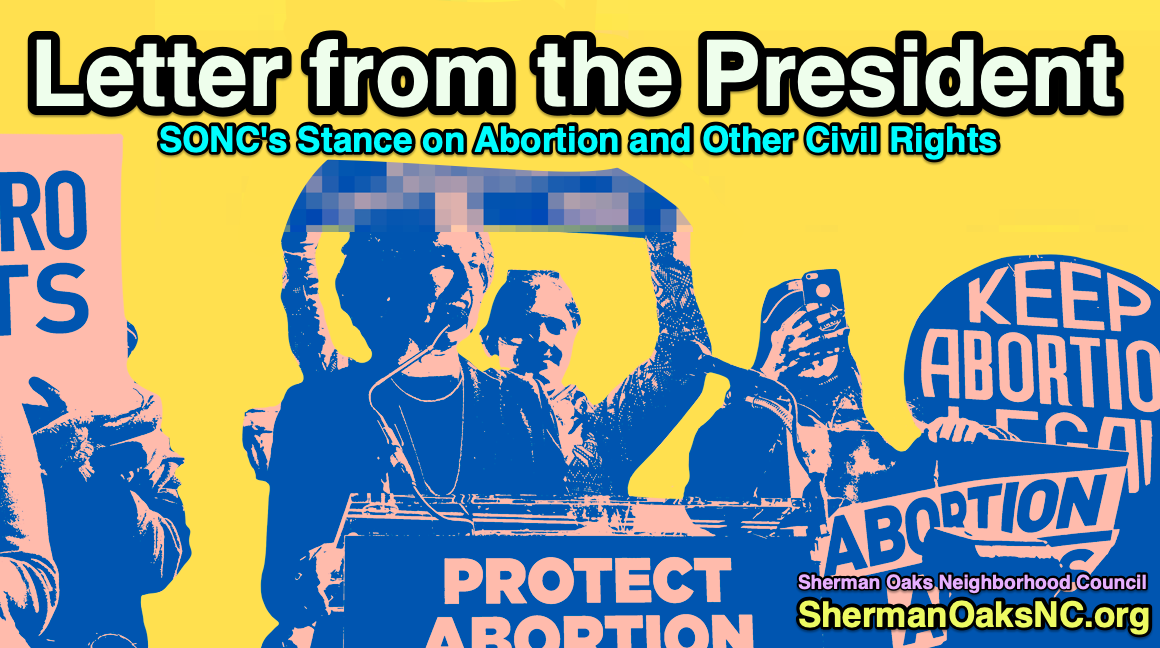 In the wake of the Supreme Court of the United States' June 24
Dobbs v Jackson Women's Health Organization
decision effectively overturning
Roe v Wade
and placing the responsibility of abortion legislation at the state level, the Sherman Oaks Neighborhood Council reiterates its position as adopted during our May 9, 2022
Board meeting
, which states: "The Sherman Oaks Neighborhood Council (SONC) shares in City Council's advocacy for reproductive rights as the Supreme Court of the United States appears poised to overturn Roe v Wade, and supports City Council File 22-0002-S73 seeking to codify the right of pregnant persons to access safe abortion healthcare into law and hereby affirms its support for the rights of all marginalized groups and members of protected classes as specified in existing California law governing unlawful discrimination...SONC hereby supports these efforts to enshrine such human rights into the California State Constitution, or other appropriate legislative document."
Pursuant to the Dobbs decision, abortion law reverts to states. In California, the right to abortion is legal up to the point of viability (usually the 24th-28th week), with exceptions for life or health after that time. Regarding other civil rights issues referenced in Dobbs, here are California's laws regarding them, were they to be reverted to state law:
> Same-Sex Marriage (Obergefell v. Hodges [2015]): Legal in California, from 2006 to 2008, and again from 2013-present. Furthore, SB 1306 (in 2014) removed gendered terminology in its definition of marriage and SB 1005 (2016) replaced "husband" and "wife" with the gender-neutral "spouse."
> Homosexual Conduct Law (Lawrence v. Texas [2003]): Legal as this was never a law in California; however the California Supreme Court referenced Lawrence in a 2006 decision affirming the right of same-sex couples to marry in California.
> Interracial Marriage and Miscegenation (Loving v. Virginia [1967]): Legal pursuant to a California Supreme Court decision in 1948.
> Contraception Access (Griswold v Connecticut [1965]): Legal in California, several laws over the years were passed. For instance, SB 1053 (2014) required both Medi-Cal and commercial health plans to cover all FDA-approved contraceptive methods while SB 523 (2021) expanded and modernized the right to access birth control.
For those concerned about the state of our federal government's affairs relative to civil rights, let there be no doubt: The aforementioned human rights issues remain protected in the State of California. Furthermore, the Sherman Oaks Neighborhood Council supports the continued fight for equality, protection against discrimination. As President, I will continue to ensure we do not lose sight of that goal.
Peace,
Lindsay Imber
SONC President