SONC VNY Airport Vision Motions
Posted on 06/15/2023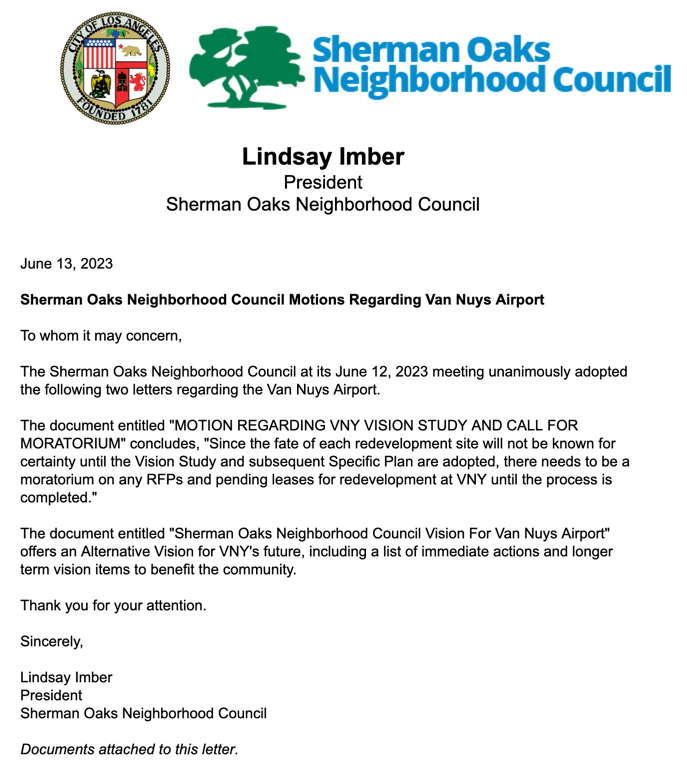 The Sherman Oaks Neighborhood Council at its June 12, 2023 meeting unanimously adopted the following two letters regarding the Van Nuys Airport.
The document entitled "MOTION REGARDING VNY VISION STUDY AND CALL FOR MORATORIUM" concludes, "Since the fate of each redevelopment site will not be known for certainty until the Vision Study and subsequent Specific Plan are adopted, there needs to be a moratorium on any RFPs and pending leases for redevelopment at VNY until the process is completed."
The document entitled "Sherman Oaks Neighborhood Council Vision For Van Nuys Airport" offers an Alternative Vision for VNY's future, including a list of immediate actions and longer term vision items to benefit the community.
The documents are available on the SONC Website:
MOTION REGARDING VNY VISION STUDY AND CALL FOR MORATORIUM
&

Sherman Oaks Neighborhood Council Vision For Van Nuys Airport